Employee engagement metrics are a Human Resources concept where the aim is to measure the employee's emotional attachment to the company. Employee engagement metrics measure how engaged the company's employees are. It is indicative of their level of dedication and commitment to an organization.
How to measure employee engagement?
The paper "Psychological Conditions of Personal Engagement and Disengagement" by the psychologist William Khan says there are three principal dimensions of employee engagement:
Physical

Cognitive 

Emotional
Physical engagement describes how much an employee is willing to invest both mentally and physically for their job. This aspect of employee engagement shows how much the employee for the organization puts forward personal attention.
Cognitive engagement indicates a higher degree of engagement than the former here. To engage, the employee should be well aware of the employer's goals and the organization's strategies, thus putting forward the desired work.
Emotional engagement is the extent of an employee's emotional relationship with the organization. This shows to which degree the employees are engaged with the organization's mission and values.
In a nutshell, it's the sense of belonging and confidence the employee has in the company and among its members to put forward the best performance.
Top Ways to Measure HR Employee Engagement
Employee Resilience
Resilience is the ability to bounce back under stress. The resilience of an employee corresponds to how much they are probably going to stay or last in a company. Employees with long-term goals tend to showcase more resilience.
Like many other metrics, resilience is measured through tracking polls and surveys.
Like many other metrics, resilience is measured through tracking polls and surveys.
To find out an employee's resilience, we can perform various surveys centring on the employees' interest, the commitment of taking leadership roles, analyzing how much of the employee's personality aligns with the work rhythm of the organization, to which extent does the employee go to attain balance in terms of work and life, and so on.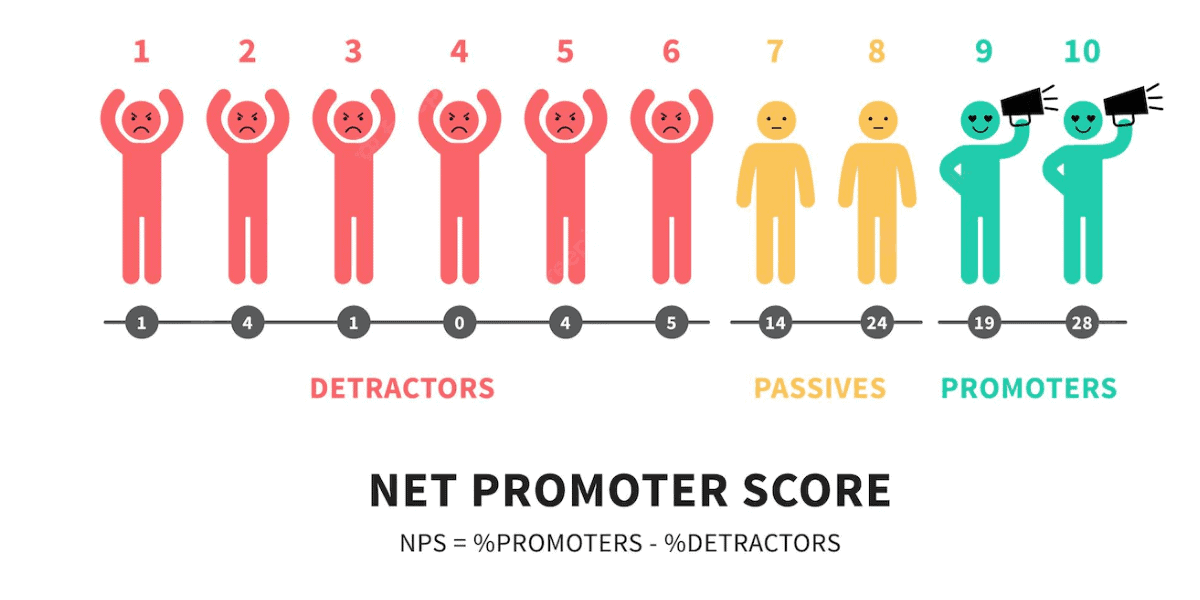 Employee NPS
eNPS or Employee Net Promoter Score is a metric that helps measure the level of loyalty and engagement put forward by the employee to the organization or company.
It is solely based on one question, the most relevant and important one: how likely are you to recommend your employer to others as a place of work? The one question makes all the difference.
This one question is asked and is to be answered on a scale of 0-10. Here, the scale indicates that those that fall between 9-10 are promoters, 7-8 are passives, and 0-6 are detractors.
The promoters are the employees who intend to stay there because of their positive experiences and hence, the given score. The energy and level of commitment put forward by these employees should be harnessed to the company's better growth.
Passives are people who might stay longer in a company if their issues and concerns are addressed, thereby decreasing the chances of employee loss and improving the company's standard.
Detractors are the employees who are planning to leave or the discontent bunch.
eNPS are the results obtained when you take the percent of promoters available and subtract the percent of detractors.
NPS is not clearly defined with the points since it depends on the industry and is very subjective. However, it can be precisely subjected to a benchmark where greater than 30 in terms of eNPS is considered neutral or good, whereas less than 30 is great off the charts for the working and progress of the company.
Absenteeism
Absenteeism is when there is a regular pattern of taking spontaneous leaves or just typical leaves without a proper formal heads up – thereby disrupting the work pattern of the organization. This does not indicate emergencies that arose in the employee's personal life but rather a way of spontaneous and unapproved leaves.
Anything that disrupts the organization's pattern of working and balance is considered a red flag.
Per cent of absenteeism = (number of unapproved absences / total time period)*100
Absenteeism is an entirely subjective topic, and it cannot be confined to specific percentage lines where this is right or wrong.
Absenteeism works to improve the company's efficiency by evaluating and working on further improvements.
Employee Turnover Rate
ETR – employee turnover rate refers to the number of people leaving the company in a definite span of time. ETR includes both voluntary and forced going of workers in a company. Keeping track of ETR remains necessary since it is a direct indication of the company's growth.
Paradoxically high ETR can indicate both the company's growth and downfall since low ETR can indicate the company spoils its employees, even though low ETR isn't always preferable.
Percent of ETR = (number of employees who left / average number of employees) *100
There is no actual reasonable or alarming partition rate in ETR either, but just for having an idea about ETR, 10-30 is considered suitable for the company's well-being.
Relationships in the Workplace
Positive employment engagement is an indication that your employees share healthy relationships with their peers and management. There is effective communication, collaboration, and synchronization between them as they work towards achieving company goals. 
To find out if your employees enjoy fruitful professional relationships, you can conduct surveys and glean insight.
Some questions to ask include:
Do you feel comfortable sharing problems with the management?

Do you feel your company culture promotes healthy relationships in the workplace? 

On a scale from 1 to 5, how effective is management in responding to queries you bring to them?
Workplace Wellbeing
Many companies prioritise employee well-being to forge personal connections with their bottom line. In addition to organizations promoting healthy professional relationships, it is also vital to ensure your employees' well being in and outside the workplace. This might mean introducing wellness programs or holding seminars centred on fitness. Many companies prioritise employee well-being to forge personal connections with their bottom line. 
Considering how falling prey to a sedentary lifestyle is extremely common in the present-day work environment, companies should go above and beyond in ensuring a fit and active workforce.
A thoughtful way to show concern for your employees well-being is by sending them wellness gifts. These can include at-home spa sessions, nutrient-rich snacks, or fitness gadgets which can be presented on key occasions. 
Companies can also organize marathons and other fitness drives to draw focus on a healthy lifestyle.
Here, again, you can conduct surveys with focused questions like:
Do you feel you can appropriately attend to your health and wellness as a working individual at X company?

Are you able to maintain a healthy work-life balance?

Would you be keen to participate in fitness activities should our company organize them?
Recognition
Recognition is what keeps people thriving. Same as getting a good paycheck; getting recognized for the work you put into something keeps people going.
Being able to see the impact of the work you do or seeing the results and getting to see how it fuels the success of your organization is itself a drive for the employee. Whereas acknowledged for the work is essential, and it drives the employee to hustle and motivates them to do a better job next time ahead.
Workplace recognition is one of the most critical metrics. After a while, without proper recognition of work, the quality of work tends to go downhill since it gives off the impression that it doesn't matter whether the work makes a difference.
Recognition like Employee of the Month or bestowing rewards on accomplishing milestones provides credit to employees.
Autonomy
Autonomy over one's work is more of a psychological way of improving employee performance since it gives complete control of the project into the hands of the employee, which in turn provides the employee with a sense of responsibility resulting in high performance and improved results.
Employee engagement metrics help analyze the factors standing in the way of the organization's growth and progress and reexamining these to expel these issues from the bud.
Compensation and Perks
Compensation is undeniably one of the critical factors that tie employees to a job, apart from the quality of work, work-life balance, and company culture. There should be clarity regarding compensation packages at different levels for organizations to return employees.
Employees should know that they would be rewarded with salary hikes and promotions if they were to give their best.
In addition to that, organizations can motivate employees with lucrative perks and benefits. For example, gym memberships, corporate discounts, health plans, etc.
Keeping tabs on your employees' satisfaction levels goes a long way in gauging their commitment to the company. Implement employee engagement strategies and monitor the metrics as mentioned earlier to ensure the fruition of your efforts.
Latest posts by Srikanth Acharya
(see all)